With Bethesda announcing last week that development for Skyrim was complete, with no further DLC planned for the modern day RPG classic, thoughts for many will now shift towards squeezing even more value from the gargantuan title. The Elder Scrolls series is famed for it's modding community, a rabid army of content creators who have poured countless hours of their lives into producing some of the very best work I've seen in video game design, and all for free! I'd hate to find out how many hours I poured into Oscuro's Oblivion Overhaul but it's been, hands down, the best mod I ever discovered. It breathed new life into a game I'd already poured hundreds of hours of my life into in Oblivion, so I've been very eager to fall down that same hole with Skyrim, and now seems as good a time as any.
I've been dabbling with mods almost since Skyrim launched, very few hardcore Elder Scrolls fans stick with the "vanilla" experience for very long, but this past weekend represented the first time I've properly experimented with a large number of mods. Conflicts and crashes to desktop can be common when mixing and matching mods so it can take a bit of tinkering. Couple that with the seemingly daunting installation process for some mods and it can be enough to put most people off. I'm hoping this article however will help simplify the process, explaining ways to make it easier for most to explore the world of modding.
So, let's cover the basics first. While Bethesda took massive steps this time around to open up the modding process to everyone by including Steam Workshop support for Skyrim, no self respecting modder limits themselves to the content available on the Steam Workshop. A much better source of mods is the incredible Skyrim Nexus, a repository of more than 25,000 files. The Nexus also boasts a secret weapon in the war for modding superiority, The Nexus Mod Manager, a utility that simplifies the modding process to be nothing more than a few simple clicks, and as an additional bonus it not only performs these functions for Skyrim, but a host of titles, including the Elder Scrolls and Fallout series, alongside Dark Souls. When used in conjunction with the huge collection of mods available at Skyrim Nexus, fantastic things happen.
Now you've got the Nexus mod manager installed, and it's found your Skyrim installation path, it's time to start laying the rest of the foundations for your mods. The Skyrim Script Extender will be your next port of call, it's required by some mods, including the first proper mod which we'll cover in a few. SKSE is a modders resource, allowing modders to tightly integrate their creations with the Skyrim game engine itself. Next, prior to installing any actual mods, you'll want to give a look to the Skyrim Community Uncapper, another utility that changes the skill level cap from 100 to 10000, allowing for essentially limitless play. You'll "only" receive the perks and bonuses upto level 200, but it still allows for much greater character growth, and combined with one of the overhaul mods we'll detail in a bit, it's a great experience. Finally, although they are technically mods, you'll also want to grab the unofficial patches for Skyrim and it's DLC, depending on what you have, as these fix a multitude of bugs and glitches that the game still suffers from. These kind of minor fixes never seem all that important on their own, but when combined together, it's a great stress reliever.
Ok, we've laid the groundwork and now we're ready to start detailing the mods themselves. So, let's start with making Skyrim look better…
Graphics:
Right, straight out of the gate, let's get something straight. While I understand there is an audience for them, perhaps even a large audience, I'm not going to cover the mods concerned with making the women of Skyrim look better naked, or have more realistic pubic hair, or cleaner faces. If that's your thing then you are obviously in the wrong place. The first mod I want to talk about, nae I'd even go as far as to say the most important mod I want to talk about is SkyUI. Developed specifically with PC gamers in mind, it looks to change the Skyrim UI to make better use of available screen real estate, while also making it more accommodating of a mouse and keyboard setup. Simply put, this should always be the first "proper" mod you install.
Next up, we'll give the world map some love. Quality World Map – With Roads is the best looking map available for Skyrim, with high detail textures and even roads to help you explore the huge world Bethesda have crafted. This is another of those "must have" mod for me, but it's also a tiny detail with zero performance hit, always a bonus when it comes to graphical mods.
Skyrim HD is almost 18 months in the making, and is still an ongoing piece of work, with more than 200 hours invested so far. While Bethesda have their own HD texture pack, this is better, as evidenced by this comparison shot. You'll want to grab all five parts, but be warned it will have a hit on performance so it's not for those of you not packing a decent gfx card.
WATER is another graphical revelation, drastically changing the appearance of water in the game, everything from a blacksmith's trough to every river or even the ocean. It of course means a hit to performance, but it's well worth it. The difference between vanilla water and what this mod produces is night and day.
Working alongside WATER, Static Mesh Improvement Mod or SMIM focuses on improving the look of many of the little things other mods ignore, especially the furniture and clutter that fills the world. Your barrels have never looked so good!
Enhanced Blood Textures is fairly self explanatory, with better looking blood and much improved blood behaviour. Blood now splatters in huge messy puddles and doesn't fade after just a few seconds. Things can get real messy during combat, while felling your opponent will result in death spasms that can spray blood. The same is true for non mammalian opponents, with green blood for spiders and oil for machines.
Better Dynamic Snow and Footprints work together very well. While the former greatly improves the appearance of the dynamic snow, the latter is another of those great little touches that you wonder how it wasn't there from day one. There's nothing quite like stalking an elk through the forest only to spot bear tracks and begin to panic, too late as the previously hidden bear comes running through the undergrowth to attack. And just how would he manage that you ask…?
Well, you'll want to check out Skyrim Flora Overhaul first. A truly stunning work in progress, the goal is to add a range of new and better looking plant life to the Skyrim landscape. When combined with Lush Trees and Grass, it creates a world covered in lush plant life where wildlife or players can hide. It'll bring a significant performance hit, so you'll need a beefy gfx card to fully embrace this pair of mods. You'll also have to make a small tweak to your .ini file, the full details are contained within the description of Skyrim Flora Overhaul.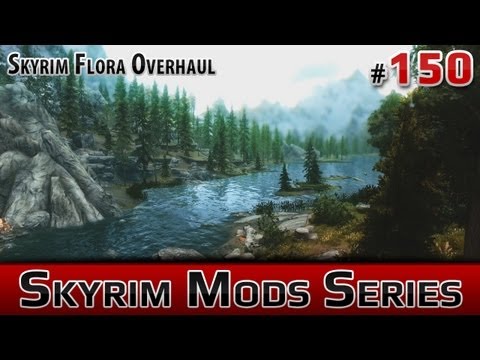 Finally, when it comes to the graphics side of things, lighting is key. Vanilla Skyrim is much too bright, with almost no penalty to your vision even in the middle of the night when you are deep in a dungeon. However, this is easily tackled using any number of mods. Some hardcore modders prefer to use an ENB to achieve this, allowing them to endlessly tweak everything from contrast, depth of field and bloom to interior and exterior lighting, but those require careful attention to detail. An easier option I've discovered is a highly customisable mod called Realistic Colours and Real Nights, or RCRN. With three basic settings allowing for differing levels of darkness and a customiser to tweak in between, you can achieve great effects with this mod.
Overhauls:
Ok, this is where things get a bit heavy. You've made Skyrim look a damn sight prettier, you've cleaned up that UI to make better use of the higher resolution you are undoubtedly playing the game at and you've spent countless hours now exploring this gorgeous new world. However, things are getting a bit stale. Sure Bethesda can craft a great open world, and they fill it with a tonne of stuff to do, but their levelling system can make most of the action feel very samey. There's very little challenge there, bar cranking the difficulty slider all the way to the right, and to be frank, that's for masochists. Wouldn't it be better if there was simply a better, all round experience? Luckily, once again, it's the modding community to the rescue.
I've spent a good chunk of time checking out the best overhaul mods for Skyrim, and my conclusion is that there are really only two worth talking about at this point of time. First up is Requiem, a hardcore play mod that greatly enhances the realistic roleplaying aspects of Skyrim. The changes this mod makes to the mechanics of the game are too numerous to list here, but suffice to say that Requiem is not for the faint of heart. It's an old school, hardcore RPG experience that does take a while to adjust to. Everything has weight, coupled with a dramatic drop in what your character can carry, so you'll have to find places to stash everything you find, including your gold, or you'll find yourself weighed down very quickly. Combat is fast, brutal and visceral, with no auto heal so you'll have to be careful out there, especially at first. Enemies have also been overhauled, you'll simply not be able to tackle things like the undead or dragons without first seriously investing in your skills. I could write for hours about the changes Requiem makes, but it's easier to simply install and explore a whole new world for yourself. I personally play with Requiem installed, and find it a much better experience, slower paced for sure, but very much absorbing.
However, if Requiem sounds a little too Dark Souls punishing for you, then I'd suggest Skyrim Redone. A modular overhaul system that focuses more on character development, it allows you to pick and choose which aspects you employ. Once again, the changes made to vanilla Skyrim are way too many to list, but it's definitely a drop in difficulty from Requiem. Most will definitely find this more balanced, but it's still a significant step up from vanilla, so be warned.
Finally on the subject of overhauls, a very special mention for Enderal: The Shards of Order. A total conversion that transforms Skyrim completely into a new game, it's from the same team who made Nehrim for Oblivion. It's still being developed, with no real release schedule being discussed, so it falls firmly into the "keep your eye on this" camp.
Miscellaneous:
Finally, to round out this guide we've got a collection of other mods that add…. something to the game. We've got everything from armour and weapons to a system that brings impact to the Skyrim climate.
First up, we've got both Immersive Armours and Immersive Weapons, a pair of mods that add in a huge number of new, but lore friendly weapons and armour to the game. Not only is everything craftable for the player, but it's all also been added to the game's loot tables, meaning you can encounter it all out in the wild, perhaps on some lucky bandit or hunter you'll stumble across. Both look great, fit with the aesthetic style of the world, and are must haves in my opinion.
Cloaks of Skyrim is one of those mods that baffles me why Bethesda didn't include this in the first place. It seems so obvious now but Skyrim is, by and large, a very cold place so of course people would wear cloaks to try and stave off the chill. Now you can find them all over the world, and even craft your own. As an added bonus, cloaks can be enchanted, giving you an extra item to help equip you for battle.
Another "of course!" moment came when I discovered Wearable Lanterns. Just like in Dragon's Dogma, players can now attach a lantern to their belt when they go dungeon diving, keeping your hands free. This works great with RCRN and really helps build a sense of atmosphere in the dark, with no real performance hit.
Run For Your Lives does just one thing, but does it very well, it makes NPC's take shelter indoors when a dragon attacks their settlement or town. It seems such obvious behaviour and really helps with player absorption.
Guard Dialogue Overhaul is fairly self explanatory. It seems that Bethesda added in a whole bunch of dialogue choices for the various guards who litter the landscape, but seemingly limited it to a choice bunch of phrases, meaning you rarely heard more than half the choices available. Guards now don't chip into conversations with weird remarks that make little or no sense to your current standing, showing more respect to a player after he has accomplished feats of note.
Alternate Start provides you with just that, an alternate start for those who wish to avoid the lengthy tutorial introduction the game forces you through. This allows you to get started much quicker, while not impacting your progress in the early game significantly.
Finally, we come to one of my favourite mods for Skyrim, and something that's perhaps more for the hardcore roleplayers out there. Frostfall is an immersion mod, looking to add a deep level of mechanics to surviving the wilderness of Skyrim, while not making it tedious. Your characters condition at any point is tracked using a combination of location, clothing, weather and others, and your health will react to the conditions around you. Get too cold and you'll see a significant drop in health. To help you combat the elements, you can craft a range of survival items, from tents to fires to warm clothing. The mod contains a wealth of great little touches that really make you feel like the land is another enemy you must combat, especially in the colder regions of Skyrim.
So, there you have it, a small taste of what modding Skyrim can do for you. As I previously mentioned, Skyrim Nexus contains more than 25,000 mods, so this really is just the tip of the iceberg. Using the mod manager makes adding or removing mods as you see fit very easy, although be aware that some mods don't play together nicely, and can impact any saves you have. Make sure and read the description of a mod before you download it, understanding any small tweaks you might have to make to ensure it works.  The mods I've listed here, by and large, all work together without issue, some even complimenting one another nicely. Obviously the two overhaul mods won't, it's really an either or proposition there I'm afraid. So get onto the Nexus, experiment a little, and let me know what you find. There's simply too many mods to try them all so feel free to share any experiences you have with me, I'm always looking for suggestions of mods to try.